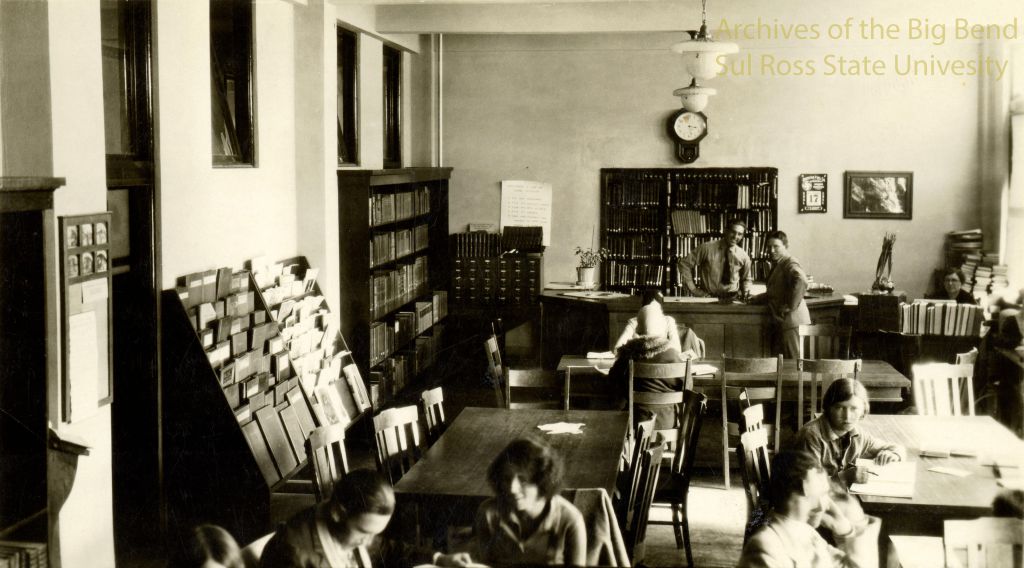 Did you know that the Sul Ross Library did not receive its own building until 1969? Before then, it was found in two separate places. When Sul Ross Normal College opened its doors in 1920, the entire school was in one building, what is now known as Briscoe Administration Building, then known simply as the "Main Building". There, the library occupied two rooms with 1,800 volumes available.
In 1930, President Morelock successfully petitioned for the "Library Building" to be built. In those 10 years, the collection of books had grown to 13,000 volumes. This building housed the library on the third floor, which offered a large reading room for student and faculty use. It cost 150,000 dollars for the construction of this building, and another 10,000 dollars for equipment and books. Classes for the Sub College High School Students took place on the second floor. The first floor boasted a state-of-the-art auditorium which seated up to 400 people. Later, this building would be named "The Morelock Academic Building" to celebrate President Morelock's contributions to the college.
Finally the library received its present building in 1969. This building was two floors and was designated to be used by the library solely. It was immediately named after President Bryan Wildenthal, who was President of the University from 1952 to his death in 1967. The building cost 675,000 dollars to create. At that time, 125,000 volumes of books and other media were moved from MAB to the new library.
In 2000, the library completed an extensive remodeling where a third floor was added, primarily to accommodate collection growth. The renovation cost 5.226 million dollars. The library remained open during all phases of construction to serve the Sul Ross community. A red brick facade was also added to reflect the construction of the other buildings on campus. Two years later, on January 26, 2002 both of Bryan Wildenthal's sons and grandson attended the rededication ceremony along with 300 members of the community. Today, the Bryan Wildenthal Memorial Library houses the Archives of the Big Bend on the second floor, the Tutoring and Learning Center on the first floor, and collections on the third floor. It is the center of various campus events happening on a weekly basis including STEM Fridays, and finals week activities open to the entire campus.