The Van Robinson Fine Press Book Collection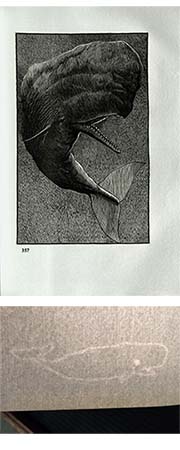 Books from the Van Robinson Fine Press Book Collection are produced by the finest book designers and printers in the United States and Europe. The 317-book collection represents an entire century of exquisitely crafted books from renown printers such as Kelmscott, Ashendene, Arion, Book Club of Texas, Doves, and others. They are printed on the finest paper, some handmade, illustrated with original drawings, etchings or engravings. Many are produced in limited editions, giving audiences a rare chance to see these volumes in person.
The finest and most valuable book from the collection is "Moby Dick; or, The Whale" by Herman Melville printed by Arion Press located in San Francisco, California. Every element of the book is crafted to reflect the mood of this classic text, resulting in a volume that is as much a work of art as it is a novel. Considered one of the greatest American fine press books ever printed, it took a year and a half to print and was completed in 1979. Only 265 copies were printed of which 250 were for sale. The text is set by hand with initial letters printed in blue at the start of each of the 135 chapters in Leviathan Capitals, a special alphabet designed for the purpose by Charles Bigelow and Kris Holmes. Boxwood engravings created by Barry Moser depict a whaling industry on the cusp of the Industrial Revolution in meticulously researched detail. It is printed on handmade paper tinted blue-grey. A whale can be seen lurking in the very pages themselves as a watermark, visible only when light shines through the paper. The 600 page book is bound in full blue Levant Morocco (the finest goatskin) with silver lettering stamped into the spine.
The "Van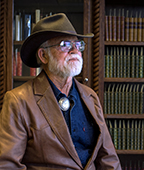 Robinson Fine Press Book Collection" was donated to the Bryan Wildenthal Memorial Library by Mr. Van Robinson of Fort Davis, Texas.
The collection can be found in the library's conference room 104 on the first floor and may be viewed by appointment. To find a complete listing of books available in the Fine Press Book Collection, search the All Library Search or view the exhibit catalog.
To search the Fine Press Book Collection in All Library Search, use the keyword "Van Robinson", and under "location", select "Library – 1st Floor Conference Room (260)".
Tour Arion Press on this episode of "Raw Craft with Anthony Bourdain".

Hear about the collection in Van Robinson's own words.