Library Instruction Program Contact
Betsy Evans
Director of Access, Instruction, and Outreach
betsy.evans@sulross.edu
432-837-8312
Library Instruction Program
The Sul Ross Library offers face-to-face and web-based library instruction as part of our mission to provide learning resources and services necessary to support the educational, research, and information needs of the university.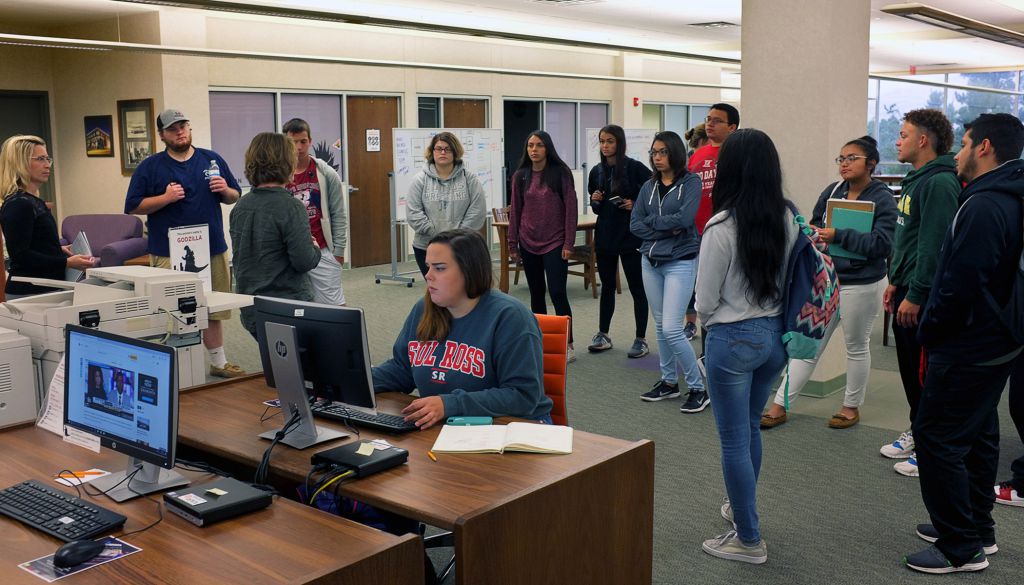 Library Instruction can include:
traditionally scheduled classroom instruction sessions
embedded librarianship in Blackboard courses
virtual reference service
research consultations
research guides
Formal and informal tours of the Library's three levels, including an overview of the available resources. An orientation to the Archives of the Big Bend, housed on the second level, is also available with pre-planning.
Tips for Incorporating the Library into a Syllabus or Assignment
One easy thing you can do is incorporate information about the Library into your syllabi.
Even if your course does not require an explicit research component, the Library offers many opportunities for students to expand their learning. Simply by sharing information with your students about the Library, you'll encourage them to consider these opportunities.
Feel free to craft your own statement, or share ours:
The Sul Ross Library offers FREE resources and services to the entire SRSU community. Access and borrow books, articles, and more by visiting the library's website, library.sulross.edu. Off-campus access requires logging in with your LoboID and password. Librarians are a tremendous resource for your coursework and can be reached in person, by email (srsulibrary@sulross.edu), or phone (432-837-8123).
Additional information for students at Rio Grande College:
The Southwest Texas Junior College (SWTJC) Libraries at Uvalde, Del Rio, and Eagle Pass offer additional access to library spaces and resources. Del Rio, Eagle Pass, and Uvalde students may additionally use online resources available through SWTJC website, library.swtjc.edu. The SWTJC Libraries serve as pick-up locations for InterLibrary Loan (ILL) and Document Delivery from the Alpine campus.