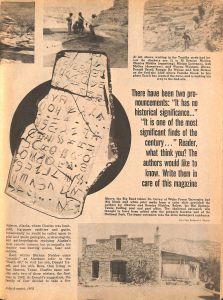 Did you know that the Marfa Lights are not the only mystery unexplained by history and science in the Big Bend area? Chances are you are already familiar about the strange lights that have been seen around Marfa since the late 1800s. What about the Big Bend Tablet? For some reason, this story is known to very few people. Here at the Archives, we have the most documentation about the Tablet found anywhere!
The Big Bend Tablet was found by hikers Donald and Reva Uzzell and their Alaskan friends Charles and Bernice Nickles in 1962.  They decided to take a hike around the Tornillo Creek area around Christmas of that year. Donald decided to check out a strange small cave opening with an "L" shape he spotted. Little did he know he would find something of great archaeological significance. He pulled out fragments of the tablet which appeared to be stacked together. Seeing it was inscribed in an ancient text, the hikers did the responsible thing by bringing it to the Park Ranger.
Unfortunately, the Ranger thought the tablet was a hoax and no one seemed to take the find very seriously. It would not be another 8 years until the origins of the tablet were explored. By then, the tablet had crumbled to dust. Thankfully, the Nickles had taken a good photograph of it prior to giving it to Park officials. They received help from Miriam Lowrance, Sul Ross State University professor and archaeologist, who was able to get the tablet translated. It was a prayer to the god Mithras written in both Iberic and Lycian, dated around 300 AD. It read:
Why (this) suffering?
Ah what anguish!
A call to prayer- 29th December
First winter month- year 6
Heal us!
Heal us! Heal us!
The faithful  by sorrows are beset;
O guide us Mithras
Show forth thy power and
the promises of aid as
reveled by Ahura-
Mazda
So how did this tablet with ancient text make it to the Big Bend? Archaeologists and historians now think it may have been an expedition made by Greeks up the Rio Grande about 1600  years ago, its remnants found in both the tablet and inscriptions on rocks found in Arizona. It was found that the tablet was comprised of bentonite- a type of mud found ubiquitously around the Big Bend. However, since the original tablet crumbled, it is hard to determine its origins.
Some people think it was an elaborate hoax created by the Uzzells and Nickles. However, it is highly unlikely anyone in the party knew anything about how to write an ancient Mithran prayer. Today, the story of the Big Bend Tablet is obscure without many people paying it serious heed. What do you think? Did the ancient Greeks or Romans travel up the Rio Grande around 300 AD? Or is this a hoax?