In celebration of The American Library Association (ALA)'s annual Preservation Week, happening right now April 22, 2018 to April 28, 2018, the Archives of the Big Bend is highlighting some of its work in preserving Big Bend cultural heritage.
A current project is the continuation of processing the J.J.  Kilpatrick Family Cadelaria Papers, a historically-rich collection spanning over a hundred years. A significant portion of the papers detail the lives of  J.J. (James Judson) and D.D.(Dawkins Darwin) Kilpatrick, father and son Georgia transplants who bought land in the tiny border town of Candelaria, Presidio County, in 1908. J.J. realized the value of the land at Candelaria and began planting cotton there. By 1919, he owned 800 acres farmed by 45 Mexican tenant farmers. He owned the local cotton gin and flour mill, and was Justice of the Peace while Dawkins owned the General Store and was Deputy Sheriff. His wife Lula was the postmistress. J.J. Kilpatrick is known for his writings and publications on various topics including religion, politics, border-tension, and especially his long and drawn-out battle with Captain Matlack, who commanded an 80-man Cavalry regiment stationed in Candelaria beginning in December 1917.
Most of the material in the Family Papers associated with Dawkins and J.J. Kilpatrick are around 100 years old and detail their lives in Candelaria with items including business and personal correspondence, photographs, writings, legal files, and scrapbooks. Some of the materials are in remarkably good condition for their age, while some are not. It is likely that much of the material was stored in a barn or outside storage shed for decades where it succumbed to pest damage, water damage ,and added degradation as the result of unstable climate conditions. On top of that, some paper is more acidic and inherently more unstable than others. This includes lower-quality stationary and notebook paper, and newspaper, made from ground wood pulp with high qualities of lignin, making it more acidic and more fragile as it ages.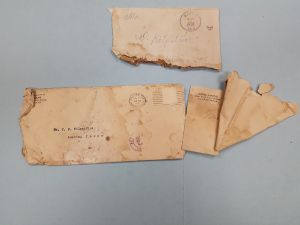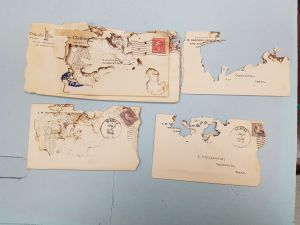 (click on all photos for a larger image)
As you can see, the correspondence on the left was damaged by water, while the correspondence on the right was damaged by pests (likely silverfish). While there is nothing we can do for the badly-eaten correspondence, opening up one of the water-damaged envelopes, we find that the large portion of the letter has survived.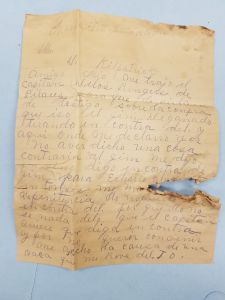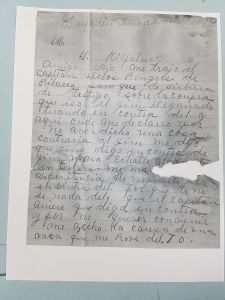 In this case, a preservation copy was made on acid-free paper. This can be a good solution to many preservation issues regarding paper documents, however it is a time-consuming process when you consider the amount of documents that need treatment, and the high cost of archival acid-free paper. Most archivists decide which documents to duplicate and preserve based on the condition and value of the documents, the cost of supplies, and the amount of time dedicated to preservation.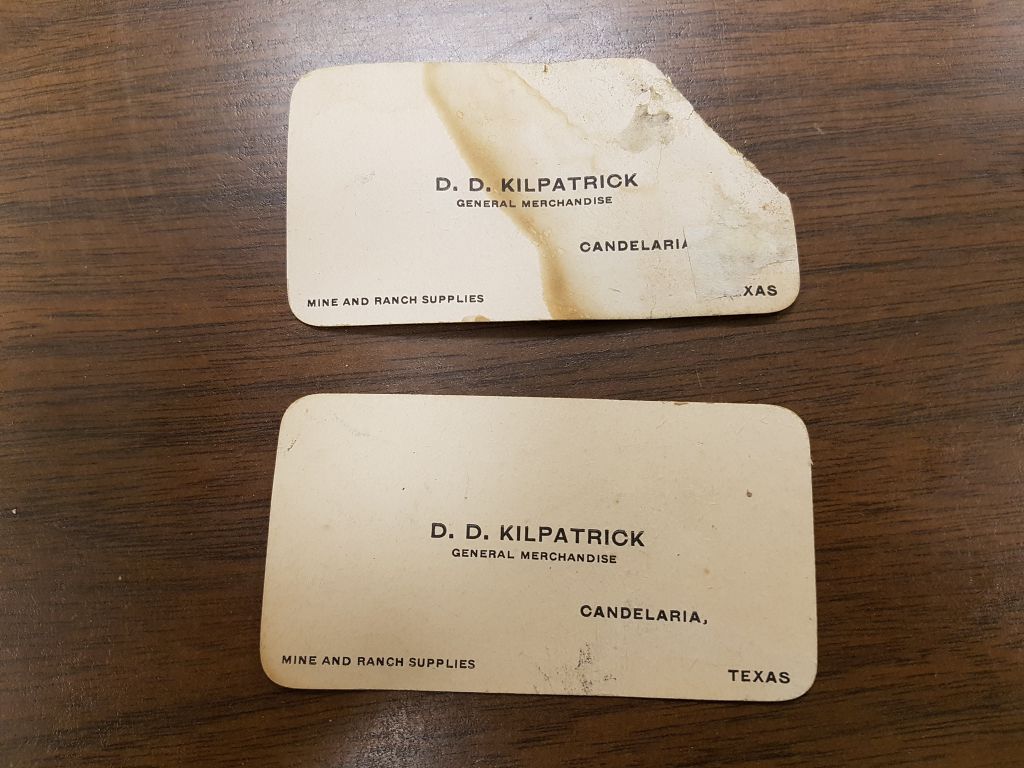 Sometimes we are lucky and there are duplicate copies of materials that are damaged. In this case, one of D.D. Kilpatrick's business cards has been water-damaged, and another is not.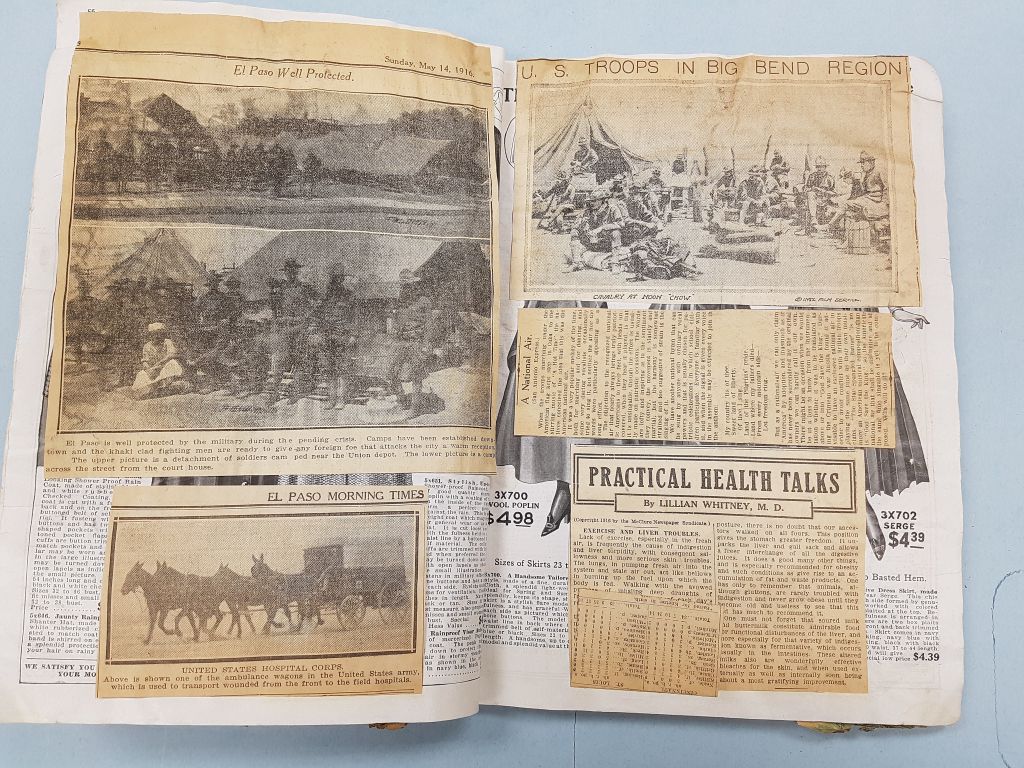 While newspapers themselves become degraded quickly, this scrapbook filled with articles about border tension has held up remarkably well. It is in part due to the fact the articles were glued into a magazine, which are typically printed with higher-quality paper that does not degrade as quickly.
Several copies of this newspaper were included with the collection, but all copies have been folded many times, increasing the fragility of the document. In this case, we made another preservation copy and filed the paper into an archival acid-free folder. Ideally, all paper documents in archival collections should be filed in acid-free folders, which is happening with the Kilpatrick Papers.
Nearly all of the photographic material in the Kilpatrick Papers, including negatives, has survived very well. Many of the photographs and negatives are currently housed in polypropylene archival sleeves. This prevents the photographs from being damaged by being handled. The oils in your hands are harmful to photographs. In cases where photographs are not sleeved, standard archival practice dictates that anyone handling them must wear cotton gloves. The next phase of processing will include placing the photographs into archival albums, such as the Casey Collection album on the right.