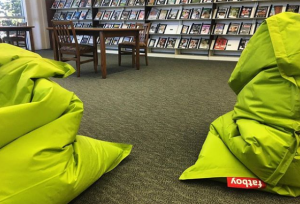 Right about the time that graduating Lobos are ordering their robes in the spring, the librarians sit down to hash out our summer projects: What collections will we focus on rejuvenating? Which databases do we want to try to highlight for fall? What games and lesson plans should we develop for orientation sessions? And then suddenly it's the end of June and we're left wondering what we have accomplished.
Well, since May, we've processed over fifty passport applications for our Big Bend community members. We wrapped up a well-received exhibit on the state of water in Texas from The Meadows Center at Texas State University and we've started planning for fall's local art exhibits. Based on feedback from library visitors, we've ordered new, colorful and comfortable furniture as we continue the library refresh! Maybe you've noticed the bean bag chairs on the first floor. Maybe you've noticed a few new plants downstairs too?
We've also been working hard to develop (and order and process) a textbook collection for the library. The goal of this collection, curated by faculty, is to give better — free — access to course reading materials to students. Do you like this idea? Keep an eye out for more information as we roll into fall.
As the Summer I session comes to a close and everyone gets a much needed "break" for the Fourth of July (Summer II starts July 9! No rest for the weary!), make time to come to the Library for leisure and keep an eye out as we continue to make positive changes around these parts.